Summus Face Patch
Local masks with immediate effect
10 pairs in a pack (2 patches in a sachet)
Free shipping to any country via express delivery, tracking number is provided.
Treatment action
The patches instantly smoothen the skin
Lessen pronounced wrinkles and lines
Effective against mimic wrinkles
Even skin tone and texture
Regenerate elasticity and skin tonicity, also around the eyes
Moisturize deeply and effectively
Lessen the pronounced dark circles around the eyes
Provide skin shining
Patch features
Transfer type serum
Components of the serum that saturates the fabric base of the patches are connatural with the skin and actively interact with it.
The patches are applied for 5-10 minutes. For more pronounced transfer effect, prolong the procedure up to 20-30 minutes.
Unwoven base
The skin does not feel the patch base, risk of any mechanical damage is excluded.
Innovative shape
Due to innovative tetra shape, Summus patches can be applied under eyes, on nasolabial furrows and forehead, including space between eyebrows.
Smoothing effect
Complex of three types of collagen brings back skin elasticity by instantly pulling and smoothing it.
Sea collagen (hydrolyzed collagen) and atelocollagen (water-soluble collagen).
Under the action of sea collagen, skin smoothens and acquires transparency, and the texture of the skin surface becomes even.
Atelocollagen contains approximately fifty-fifty percent of collagen type I and elastoidin respectively. Elastoidin produce an instant effect on the skin by forming a protective film on the area of its application.
Atelocollagen SS (succinyl atelocollagen) is used for nutrition and intense skin regeneration, as well as provides anti-inflammatory action.
Moisturizing and protective effect
Complex of three types of collagen contained in the serum keeps and maintains the epidermis moisture content twice as better as common hyaluronic acid.
Osmolytic hyaluronic acid (hydrolyzed hyaluronic acid).
Moisturizing superhyaluronic acid (acetyl sodium hyaluronate).
Stabilized hyaluronic acid (sodium hyaluronate).
The skin softens, its condition improves, thus leading to the smooening of skin texture. The hyaluronic complex of the patch has continuous accumulative effect: on the next day after the use of the patches, the skin becomes much more moisturized and tight.
Hyaluronic acid is one of the most important structural elements of skin. Its main function is to bind and hold moisture. One molecule of hyaluronic acid is capable of holding up to 1000 molecules of water. Hyaluronic acid also contributes greatly to providing optimal conditions for cells functioning (it serves as a system for interstellar supply of many active components necessary for the skin health, stimulates the synthesis of collagen and plays an important part in the process of epidermis renewal, as well as protects cells against damage caused by free radicals).
The young skin continuously provides synthesis of hyaluronic acid. However, age-specific changes (they start to show around the age of 22) and skin damage by UV-light lead to the steady decrease of hyaluronic acid synthesis. As a result, the skin looses moisture, elasticity, and deteriorates. In order to stop the loss of moisture and fight against the aging process, it is advised to additionally saturate the face skin with moisture. Skin hydration can be carried out using low-molecular compounds of hyaluronic acid.
Common molecule of hyaluronic acid is too large and is not capable of penetrating through small intercellular spaces of the surface skin layer. That's why, when the common form of hyaluronic acid is applied, it remains only on the skin surface, forming a light film that tends to be removed during washing.
Summus laboratory uses hydrolyzed or low-molecular hyaluronic acid*. This type of hyaluronic acid not only covers the skin surface but also penetrates inside** due to low molecular size. It moisturizes skin from within and on the outside. Unlike common form of hyaluronic acid, molecules of hydrolyzed hyaluronic acid can not be washed by water as they penetrate the skin deeply and continue working after washing. The applied low-molecular form of hyaluronic acid holds twice as much moisture as common hyaluronic acid***. After the use of low-molecular hyaluronic acid, the actual skin moisture content increases****, and skin acquires soft and silky texture*****.
* Low-molecular form of hyaluronic acid is obtained by molecule breakdown (hydrolysis) to smaller particles and called hydrolyzed hyaluronic acid.
** Confirmed by laboratory tests.
*** Confirmed by laboratory tests.
**** Confirmed by laboratory tests.
***** Based on the sensory evaluation results.
Shining effect
Complex of 3 types of vitamin C provides integrated effect on the skin, lightens it carefully and improves its texture. As a result, the skin acquires healthy shining.
Ascorbyl Glycoside is stable at different pH range and transforms into vitamin C (ascorbic acid) when applied on the skin. Strong antioxidant. Reduces pigmented spots, moisturizes the skin and protects it from UV-lights.
Magnesium Ascorbyl Phosphate is one of the best vitamin C forms in the cosmetic products. It is the most stable form of vitamin C, well-absorbed into the skin and effective in low concentration.
Magnesium Ascorbyl Phosphate is a non-acid form of the vitamin. It doesn't irritate the skin and is suitable for sensitive and extremely sensitive skin. Stimulates natural synthesis of collagen, increases elasticity and reduces transepidermal loss of moisture.
Ascorbic acid is «the golden standard» of vitamin C, its most active and studied form. Provides effective protection from damage caused by UV-lights. Slows down the glycation (damage of collagen fibres), reduces pigmentation and post-acne. Smooths complexion and gives shining to the skin.
Usage
Use the patches after washing and applying lotion.
Leave the patches on the skin for 5-10 minutes. For more pronounced transfer effect, prolong the procedure up to 20-30 minutes.
After using the patches, apply face cream or any other product for everyday skin care (essence or skin-lightening serum).
The patches are suitable for everyday use.
Can be used as follows: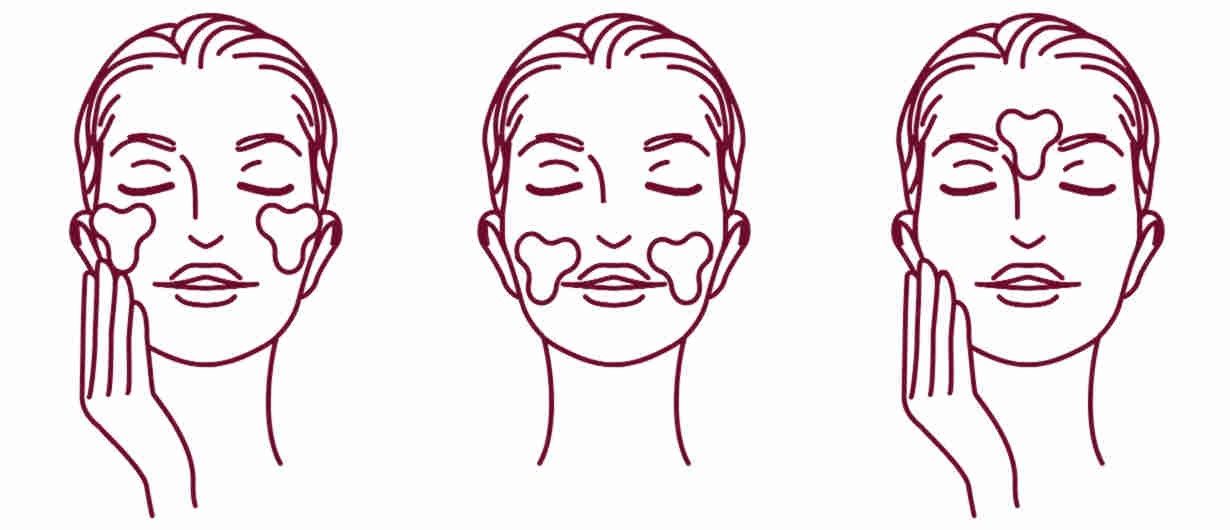 Safety Precautions
Do not use with skin damage, edema, eczema, irritation and other problems. If the product is not suitable for your skin — as well as in case of any discomfort or irritation — stop using it immediately and consult the dermatologist. Make sure to prevent it from getting into your eyes. If the product gets into your eyes, wash it away immediately with enough water. Do not store the product at a very high or low temperature; keep it away from direct sunlight.
Our clients' reviews
Патчи Shiawasedo, как и маски - это то, без чего не представляю свою жизнь. Патчи хорошо держатся на коже, не раздражают ее, при этом увлажняют, разглаживают, уменьшают выраженность темных кругов под глазами. Наношу обычно утром в выходные, когда никуда не спешу, после очищения и тонизирования кожи, под глаза, а также пространство между бровями, включаю приятную музыку, готовлю завтрак и настраиваюсь на прекрасный новый день. Также обязательно их беру в поездку.

Winner
Патчи - это то, что всегда есть в сумочке, это палочка - выручалочка после бессонной ночи. Они быстро и качественно снимают отечность и увлажняют тонкую кожу век.
Когда с утра из зеркала на вас смотрит хомяк со щёлочками для глаз, есть только один выход. Классические патчи дня глаз. 10 минут - и вместо узких щёлочек глаза милой девушки, лучащиеся и смеющиеся. Не верите? Попробуйте сами! Только не забудьте для более яркого эффекта положить патчи в холодильник перед использованием.
Если вы несерьезно относитесь к патчам для лица "Summus", то зря. Они имеют нетканую основу и инновационную тетра-форму, поэтому удобны в применении на любую часть лица. Патчи - «локалисты», т.е работают на коже локально (там где вы их прикрепили) и результат мгновенный: тон кожи выравнивается, менее заметны становятся мелкие морщинки, отек тканей уменьшаются. Если вы вечером идете в Театр (в ресторан, на свидание и т.д.) патчи должны у вас быть в сумочке или на туалетном столике! Почем? Думаю все дело в их особенном составе: сыворотке трансферного типа, комплексе трёх видов коллагена, гиалуроновой кислоте и витамине С! Это коктейль красоты для кожи любого типа. Заметила, если на видном месте появился «прыщ» (акне) - нужно локально применить патч (минут на 30) - результат обеспечен. Рекомендую!
Read more