Shiawasedo 3D Face Mask
[1 pack/5 masks]
¥5999
Approximately
$56.98
€49.97

out of stock
---
Customers Who Bought This Item Also Bought
---
Universal nourishing facial sheet mask
The mask is a multi-purpose product for nourishing, moisturizing, regeneration and protection of all types of skin. It contains vital ingredients that activate cells, improve metabolism, stimulate skin regeneration, and provide long term luxurious skin rejuvenation and replenishment.
The mask sheet is made from innovative high quality stretch fabric that uses natural cotton. The softest cotton offers ease and ultimate comfort to the skin. Elastic edges on the lower part of the mask provide perfect fitting, easy application and adjustment of the mask to entire facial surface.
Hydrolyzed Hyaluronic Acid, Hydrolyzed Collagen are modified forms of hyaluronic acid and collagen that have been split into microsized molecules. These particles are small enough to penetrate through intercellular spaces of upper skin layer into inner layers of the skin.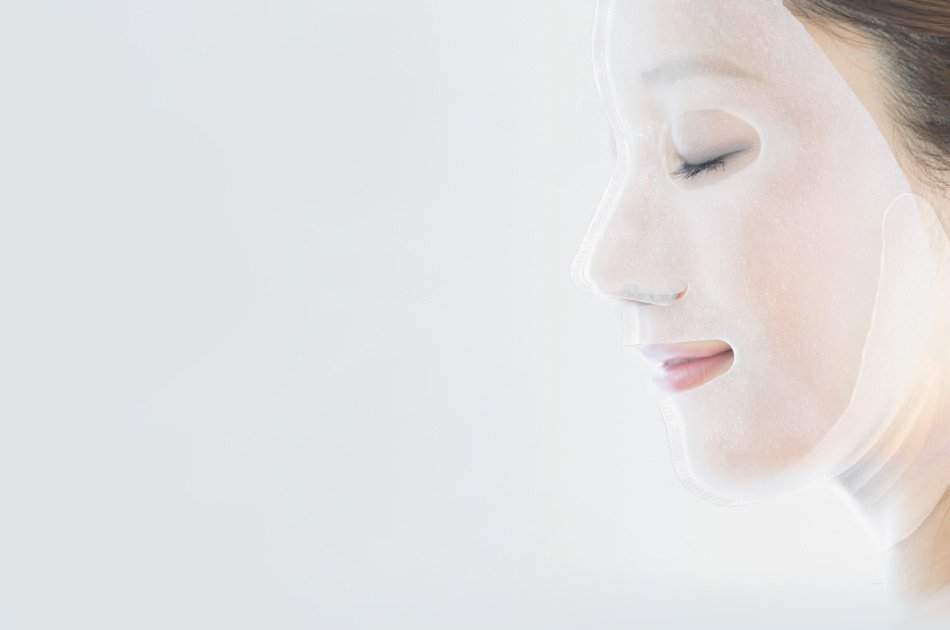 Active ingredients
Hydrolyzed Hyaluronic Acid

is derived by fragmentation of regular hyaluronic acid into smaller particles through the process of hydrolysis. Molecules of the regular HA are too big to pass through the spaces between the skin cells. That is why when applied topically, the regular HA forms a film on the skin surface and would be washed off by face cleansing. Hydrolyzed Hyaluronic Acid obtained by splitting large molecules into smaller particles. Due to the small size of molecules, hydrolyzed hyaluronic acid penetrates the skin helping to enhance skin hydration from within.

Hydrolyzed Collagen

is a form of collagen reduced to smaller particles capable to penetrate the skin. Collagen is naturally present in the skin helping to control skin density and firmness as their fibers can stretch and return to the original shape. Besides, collagen contributes to skin hydration because it retains 30 times its weight in moisture. However, the synthesis of collagen and elastin gradually diminishes with aging causing loss of skin elasticity, reduction of firmness and appearance of wrinkles. Hydrolyzed form of collagen helps to maintain optimal moisture level and improve elasticity from within as its molecules are able to pass through the intercellular spaces of the skin.

Rice Bran Sphingoglycolipids and Rice Bran Oil

act as intercellular "glue" that seals in moisture for a long-lasting hydration and softness of the skin.

Sake Lees Extract

contributes to anti-aging skincare and antioxidant defense as it is rich in vitamins and amino acids. Components found in sake lees extract provide skin lightening and brightening effect by inhibiting activity of tyrosinase which causes skin pigmentation.

Ginseng Extract

is a plant extract with antioxidant properties, it stimulates cell metabolism, tones and conditions the skin.

Royal Jelly Extract

contains a complex of vitamin B, amino acids, fatty acids, minerals, enzymes that provide skin-conditioning benefits. Besides, royal jelly components can function as water-binding agents. Moreover, royal jelly extract contributes to skin protection due to its natural anti-inflammatory properties.

Rosa Centifolia Flower Water

acts as a smoothing and skin-conditioning agent.
How to use
Apply the mask after cleansing and toning your skin with lotion.
Before opening the sachet, pat lightly with the palms to let the essence be evenly absorbed by the cloth sheet.
After removing the mask apply cream, emulsion or any other daily skin care product.
Use 2—3 times a week for the best result.
1. Cleanse your face carefully before applying the mask.
2. After cleansing take out the mask from the sachet, unfold the mask by holding two prominent tabs.
3. Apply the mask by aligning chin area and central line of the mask with the chin and the center of the face.
4. Press the mask gently with both hands for tight adherence. Slit and detach elastic edges on both sides of the mask.
5. Pull elastic edges up along the face line for better adherence.
6. Leave the mask for 10–15 minutes. Remove the mask and gently massage remaining essence into the skin.
Precautions
Do not use on skin areas with injuries, swelling, eczema, irritation or in presence of other abnormal conditions of the skin. Make sure no skin problems occur while using. Stop using and consult with a dermatologist if any problems occur. Avoid contact with eyes. If contact occurs, rinse eyes immediately with plenty of water. Avoid storing at extremely low or high temperature and in direct sunlight. Keep away from babies and adults with mental disorders.
Back To Top